Time Warner and CBS, two gargantuans of television, are bickering with the result that a few million people are not able to view CBS via Time Warner Cable. I somehow feel this is all part of the ongoing reconcentration of wealth into the hands of fewer segments of society. Just my gut feel. Whatever the ultimate reason, those few million people are denied seeing the channel 9 news and other favorites that are defacto part of our social fabric in spite of being owned by the corporatcracy. In short, since these are not truly public institutions, we don't get to decide how they are managed. The corporates do. The "Free" Market decides.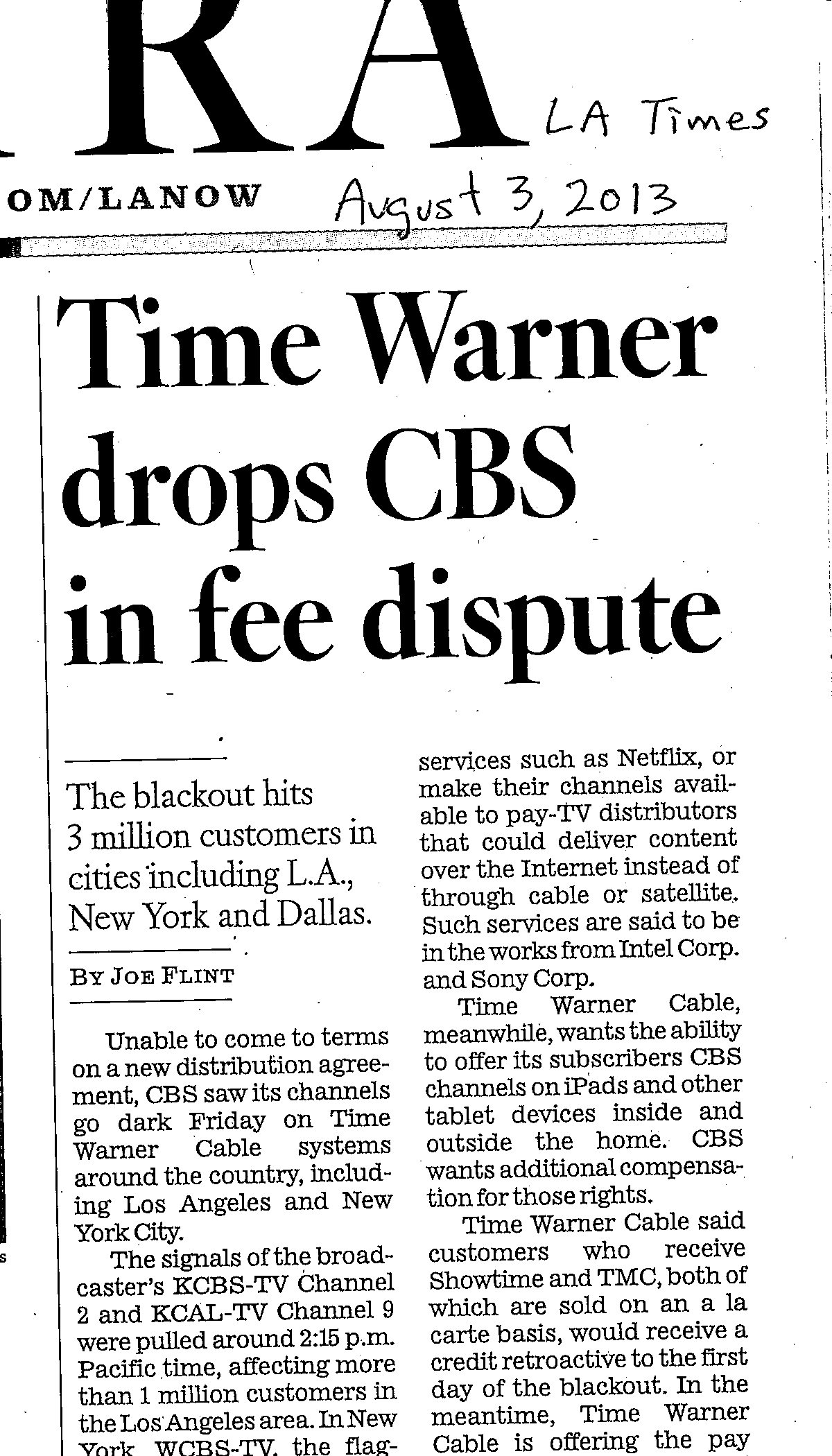 It's not like TV in the United States has not always mostly been privately owned (even though airways are in principle a public resource). We used to have commercial-free public television. In days gone by. The Libertarian Fundamentalists long ago convinced too many that government is bad (implication, corporations are good) and that how dare "they" (the government, elected by you and me), i.e., us, use tax dollars to fund quality programming.
The good news is that, at least so far, there is still freely available channels, including CBS, thanks to the good old rabbit ear antenna.
All modern digital HD TVs can view channel 2, 4, 5, 7, 9, 11, 13, 28, 34, etc here in Los Angeles. Without cable TV. For no charge. You just hook an antenna up to your TV using the coax connection.
I took a vacation from cable TV in recent years but recently subscribed to Verizon FIOS so I could watch the Dodgers, another defacto part of public society but, now, unlike before, NOT available most days on public air waves. Actually the real reason I subscribed to FIOS is that I work on the Internet so need high speed internet and Verizon almost gives away FIOS TV once you have FIOS internet. Ironically, I changed to FIOS internet away from Time Warner Cable Internet and am so happy to have done so. Time Warner simply did not know how to keep a router up 24×7 (it was more like 23.9 x 7) and that got real old real fast. FIOS for me has been operating for two straight years without any outage (maybe one short outage). I guess that's a plug for Verizon FIOS (a trade name and color scheme I dislike but a technology I love that should be available to everyone as a public utility).
Let me repeat the good news about how to bypass Time Warner Cable to watch channels 2, 7, 9, 28 (KCET) etc. all in HD (High Definition) without paying a cent for a cable TV subscription…
You use a rabbit ear antenna. I would recommend setting up a long wire and moving the antenna to the attic or the roof. I did that and the HD reception of all the above channels is outstanding. I think it's even better than what comes in on cable.
Once you do this, you might even conclude that spending $80 per month for cable (that's about a $1000 per year), isn't worth it. You can can still listen to the Dodgers on radio when they are not televised on the public air waves. They still haven't figured out how to force us to pay money to listen to radio. Not yet.
Dennis Allard
Santa Monica,
August 7, 2013