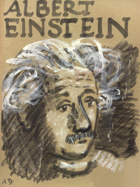 Many of my liberal friends defend Capitalism, believe that "Hugo Chavez was a dictator", and think that the radio station I listen to, KPFA, is a bunch of wacko leftists. So I was pleased to discover a fact that redeems my so-called radical views. It has taken me a life time to come to my beliefs and I realize how hard it is to change ones beliefs or the beliefs of others. But when I discovered is that Albert Einstein was a socialist I felt soothed. If Albert Einstein, one of history's most accurate thinkers, came to the same views I hold, I can walk a little taller. Einstein outlined his views in his article Why Socialism. Everyone who cares about the current economic crisis should read that article.
Socialism is a dirty word in America. Albert Einstein favored a society in which "the means of production are owned by society itself and are utilized in a planned fashion". To some, especially the libertarian fundamentalists, that is a formula for control by government. I disagree. Einstein did not make precise the mechanism by which society owns or plans. I propose a definition of socialism that is consistent with Einstein's goals for socialism but at first sight sounds as if it contradicts long standing beliefs about what socialism means. Namely, I propose that socialism is a way for more people to own more private property and have more control over their lives.
What is happening in the U.S. and world economy at the outset of the 21st century is that fewer people are owning and controlling the economy. That is Capitalism. A few people own and control, well, pretty much everything.
Is the only alternative to this skewed system of power one in which the government has more control? I think not.
What if, instead, more people owned the land they lived on (were no longer renters), owned more of the company they worked for (so the company was no longer owned by a few large share holders), and people shared ownership of commercial properties and voted on rent levels so that small businesses could thrive instead of enriching land lords of commercial properties? I am proposing that Socialism can be and is compatible with private property ownership. The difference with Capitalism is that under Socialism, as I am proposing, more people both individually and collectively own more things, not less things.
In other words, I acknowledge that "money is power", to use a well worn phrase. I acknowledge that the structure of society is based on ownership. I do not attempt to deny that structural reality. Under some kind of fantasy "communism" that reality might change but we are not talking about "communism", we are talking about a form of "socialism". The socialism I am proposing does not attempt to overturn the structural fact of ownership. Instead, the form of socialism I propose is one that has as the goal to create a more equitable society with broader ownership.
This is not to say that socialism does not involve aspects of a planned economy with major government participation and control. Actually, in our Capitalist economy the government already engages in massive control, the details of which I will not try to enumerate here. So, socialists, unlike libertarian fundamentalists but like most practical Capitalists, are aware that government is both necessary and ultimately a good thing if done right. Socialists stress that there are issues beyond the control of jungle Capitalism that require democratic government planning and tax-based programs (social security, medicare, unemployment, the space program, the military, FDA, etc.).
The move I am proposing for the zeitgeist of socialism is to embrace the notion of private ownership where the ownership is spread to more people, not to fewer. The hard part is, of course, how to achieve this. The answer will not be just to increase taxes, although very progressive taxation is not harmful as shown by the booming US economy post World War II during the 1950s to the 1970s when tax rates on high income was much higher than it is today. The answer will involve major restructuring of laws towards increasing ownership of businesses by workers, strongly limiting rent on principal residences and facilitating purchase of primary residences in lieu of renting, concession models and other means for citizens of a city to take public ownership of commercial property, and nationalization of commodity services such as banks and insurance, removing those from for-profit-for-the-few mode. The people should own the banks and the insurance companies and elect high paid competent individuals to perform administration of those vital services. Measures such as these would take one or two generations to put into effect and most likely will require a new popular party to place them on a party platform. The Republicans and Democrats are not going to do this any time soon, although a venerable Democrat, Franklin Roosevelt, did attempt to point the country in this direction back in 1944 when he proposed his Second Bill of Rights. When will we begin to follow FDR's and Albert Einstein's advice?
A good place to read about how to achieve socialism is Democracy at Work.
Dennis Allard
Santa Monica
January 12, 2014 (minor edit January 2020)